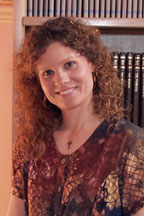 Use the link below to download a high-resolution photo of this author.
Author of To Repay A Debt and To Rebuild A Life

Born and raised in Michigan, Nancy Feldbush has always approached life with a creative flair, which can be seen in just about everything she authors. And, having worked as an Art Director, a Graphic Designer, a Copy Editor, and a Copywriter, she knows firsthand how thrilling and trying it is to transform ideas into reality. So far, her greatest accomplishments in bringing her creativity to life are her two novels, To Repay A Debt and To Rebuild A Life.
Writing, or wordsmithing as Nancy calls it, is one of the most pleasurable challenges that she has ever faced. To shape words together, then reform and chisel away at them until they make a reader sigh, or laugh, or shed a tear is her favorite way to spend time. And now, with the completion of her second book, Nancy prays that, God-willing, her hobby will become her next career.
Rivaling her joy of wordsmithing is her love of history -- evident by the amount of research Nancy does for her books. Although she is captivated by the famous people of history, she is even more fascinated by the everyday individuals...the ones who toiled day by day to carve out a place for themselves -- just as we do today. Mesmerized with the details of the past, Nancy can spend hours reading antique postcards and be amazed by the artwork, the author's choice of words, the strokes of the pen, and even the marks from the post office.
Surrounded by her dog and two cats, who produce the warmhearted atmosphere she needs to write, Nancy does her best to craft stories that combine her fondness of history, her faith, and her devotion to friends and family.