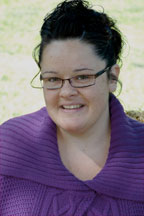 Use the link below to download a high-resolution photo of this author.
Author of The Lavender Gourmet: Culinary Recipes for Entertaining and Every Day

At one time, Jennifer Vasich thrived on living in the big city and working her way up the corporate ladder in sales and marketing. But a less metropolitan life kept beckoning, and she soon realized that she was really a country girl at heart. Always optimistic and energetic, Jennifer welcomed her new natural lifestyle with open arms and began studying massage, aromatherapy, and herbs. Along the way, she met a flowering purple herb called lavender, which altered her path once again.
After experiencing lavender's soothing qualities firsthand, Jennifer started creating and selling a line of lavender-based products in 1998. These "lavender luxuries" included handmade soaps, body-care products, teas, and culinary items. Finally, Jennifer had discovered a way to blend her passions for helping people, living a healthful life, and cooking and baking with lavender. The best part of all was that she and her husband Michael shared the same vision and passion for the lavender business.
Showering everything she touched with love and her God-given creativity, Jennifer immersed herself in lavender—which she had grown to cherish. Soon, the couple's business, Gabriel's Garden and AllThingsLavender.com, flourished. It wasn't long before Jennifer and Michael found that they had stumbled upon their true labor of love.
Never one to sit on her laurels, the ambitious yet down-to-earth "lavender lady" found a new way to share the herb's glorious characteristics. In 2002, Jennifer established the Michigan Lavender Festival. Now, every July, she and Michael host the ever-growing event, which celebrates lavender in all its splendor while showcasing the talents of Michigan-based artisans.
Jennifer's success, though, has not changed the gregarious country girl. Her faith, husband, daughter, friends, and family are still her top priorities, and she thanks God every day for the blessings in her life. Her cookbook, the next step in Jennifer's efforts to reveal lavender's charms to those around her, is the best of the best of her culinary creations. She hopes it will make lavender, which calms the soul and spirit, into a favorite culinary ingredient for cooks and bakers everywhere.